Iron Resurrection Season 3 launch
Velocity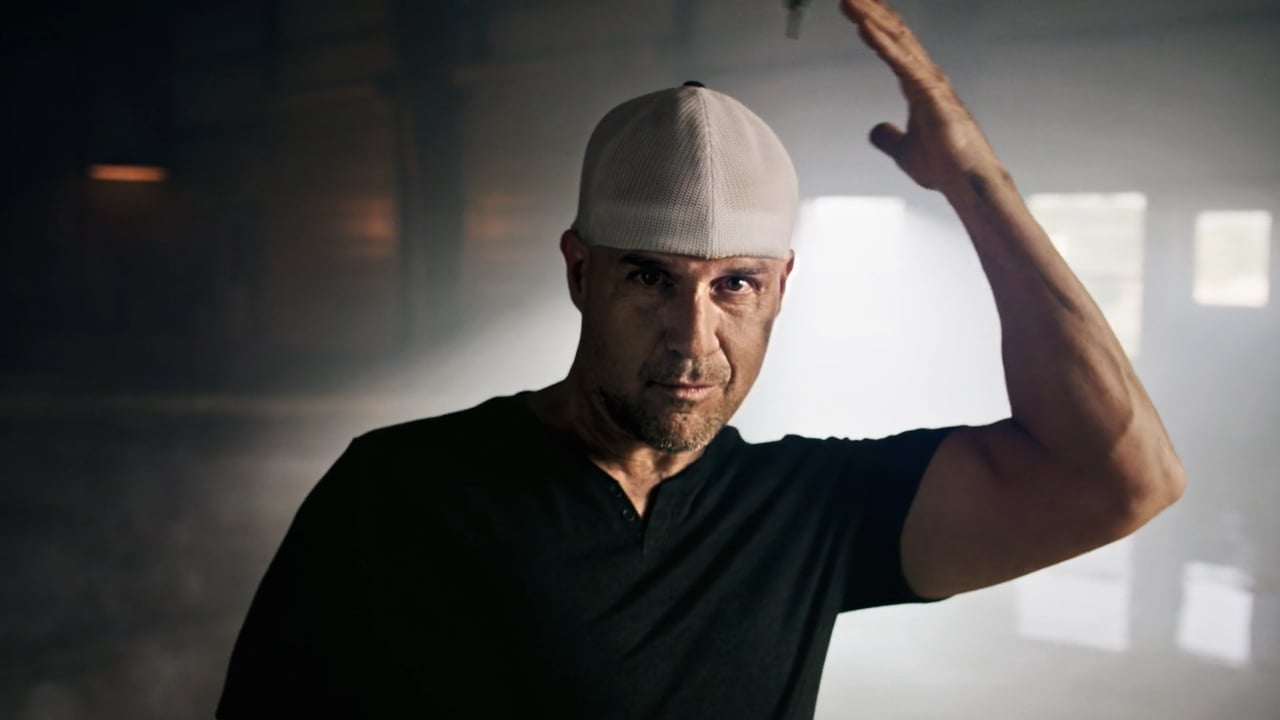 Picture it
Did someone say, "Snatch?"
Your client nods in agreement when you utter the words, "Guy Ritchie," A smile begins to form when you throw down "whip pan" transitions and they get giddy at your desired color palette dripping with warmth and golden hues. They tag in and agree on wardrobe reminiscent of The Man from UNKLE. That time was this time. What a picture perfect start.
The Challenge
Teamwork makes the dreamwork
The goal of this campaign was to elevate Velocity's second rated show to #1. For each concept we had to bear in mind that no one character could be the focus but rather highlight all the players in the game equally. Each one had to be given their own moment to shine before passing off to the next.
This is what makes Martin Brothers Customs and Iron Resurrection so unique- their team dynamic. They are all part of a successful process that makes Iron Resurrection an awesomely authentic series and we needed to be sure that message was front and center.
THE STORY
Revving up
We always start with an all brains on deck brainstorm including the writers, creatives, producers, designers, editors and directors. We threw everything at the wall and spent hours sharing vintage car ads, examples of the hottest VFX spots and copious movie trailers.
Because we always closely collaborate with our friends at Velocity, we knew there was a desire for a live action shoot with the core talent down in Austin, Texas so we soon focused our efforts in that space. And after stargazing the $500k ideas we came back down and landed on four solid and distinctly different ways to sell this series.
HAND OFF spoke with a lighter tone. We pulled from Guy Ritchie's bag of tricks for storytelling, character portrayal, narration style, design and edit and used Jason Statham as our muse (pretty good muse). The seemingly seamless whip pan transitions from scene-to-scene and character-to-character highlighted not just the people but the process too. Because a real RocknRolla wants the fucking lot.
It is also important to note that this was the first large off network campaign for Velocity post the Discovery merger with Scripps interactive. Lucky for us, we got to think about how these concepts could both appeal to the all American blue collar car fan... and …. Joanna Gaines. Okay, no guarantees Jo Jo would be watching but we needed to at least try and appeal to her. The Breakdown
Animatics are the new storyboards
After we wrote the perfect narration it was time to break down this bad boy and craft a shot list. Some companies go the storyboard route and we could have done this for sure. We have the artists. But we knew that with the over cranked shots and speed ramps we wanted, timing was everything on this piece and nothing short of a fully sound designed live action animatic would do. Luckily for Velocity, AlterEgo is packed with aspiring actors so it didn't take a lot of convincing on our part. Check out our phase 1 animatic below. It may look silly (cause it is) but it allowed us not only to thoroughly pre-pro for timing and lens choices but also allowed us to essentially drag and drop our effects to the actual footage at the end of each shoot day. We showed up to the wrap party with RC1 loaded onto an iPhone to pass around along with drinks. That's just how we roll. And speaking of … choosing the look and feel of this piece was paramount to achieving success.
The Design
Dress to impress
Given the careful references we gave to well known Guy Ritchie films, fashion was as important as form. We had to compromise a little on wardrobe given the extreme summer heat in Austin and the fact that we were working with a cast of people more known for their 'leather jackets & jeans' type fare. But we were able to sell through a more stylized color palette and fashion-scape allowing each member of the cast to play a role in their story. Mandi, the curator, is a little more mid century retro chic while Shag, the deal maker, could rock an appropriately fun version of the salesman's signature loud blazer. Joe is a boss. And getting him to wear anything not pulled from his closet was a challenge we were willing to accept. And Shorty, well, we stayed true to his roots and knew that would be what would pull the best performance out of this super shy sweetheart of a guy. All four were fair game after hearing our concept and Shag was downright stoked to be part of this campaign.
The Shoot
Pedal to the Metal
All right, son, roll them guns up, count the money, and put your seat belt on… Because it's time to Shaggle. I mean get techy: A couple Arri T 1.3 Master Primes, a steadicam, a 3 ton grip truck, one barn find Buick and a stable-bustin' 900hp '67 Nova were on the guest list. Add in an amazing crew, talent, and a few choice locations teeming with rattle snakes, black widows, brown recluse and a scorpion here and there, and you've got yourself the ingredients to a proper Iron Res promo film set.
Our launch starts off with a classic, but eye capturing zolly shot. Who doesn't love a good zolly? Compressing the scene to pull all of our focus on Joe, the leader. Every scene has a motion built into it so that the whip pans are smooth and motivated into the next stage of the process. A nicely paced set of edits and a Resolve color grade also help in keeping the transitions smooth, even while going from EXT>INT>EXT. Notice the greenish blue shadows from the first shot carry through to Mandi's glasses. eh? not bad, right? Finish the process off with solid sound design and mix, and off to the air and the webs it goes. Finishing Touches
Graphics & VFX